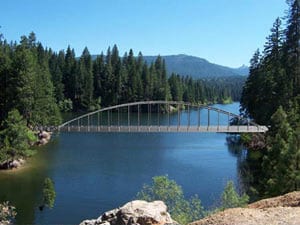 1. Continue to fulfill our mission by designing, constructing, maintaining and using trails in the Mt. Shasta region.
Build the 46 miles of new trail for Gateway Phase 2.  (See WWW.GatewayTrail.org)
Utilizing the 2013 Conceptual Trails Plan, seek funding to build 100 miles of new trail over the next 10 years.
Work with Siskiyou County to complete the Lake Siskiyou Trail from the beach to the marina within the Lake Siskiyou Resort.
Develop a trail from Snowman's Hill to Dunsmuir.
Maintain what we've built:  Gateway, Box Canyon, Cabin Creek, Elsa Rupp, Lake Siskiyou, and Spring Hill.
Continue to make progress on a paved City Park to Downtown trail.
Identify new trail projects with a focus on urban trails (Long Term).
2. Strengthen Board of Directors and organization operations.
Create a list of prospective Board Directors and involve them in Board Activities (On-going)
Provide opportunities for retiring Board Directors to stay involved with the MSTA (On-going)
Update Bylaws (Done!)
3. Increase the MSTA community (donors, volunteers, friends, supporters) and their loyalty through enhanced communication, combinations of fun and work activities and  recruiting programs.
Create a MSTA website that includes a comprehensive list of trails in the Mt. Shasta region (On-going)
Utilize Facebook to engage trail supporters. (On-going)
Establish an E-Mail list of all MSTA donors and friends for frequent communication (On-going)
Organize and support at least three major activities per year such as: fundraisers, hikes, trail work, educational programs and annual meetings (On-going)
Develop outreach programs to recruit new donors (On-going)
Conduct constituent surveys to gain understanding of views and interests (Long-term)
4. Develop alliances with partner organizations
Support land management agencies that host trails on the lands they administer, including the USDA Forest Service, California State Parks, and Siskiyou County.
Work with the following groups on a variety of projects:  BikeShasta, Rotary, Mountain Wheelers, Mountain Runners, Nature Conservancy, Pacific Crest Trail Association, Siskiyou Land Trust, Siskiyou Meanderers, Siskiyou Wanderers, Cal Trout, the River Exchange, Volcanic Legacy Scenic Byway Partners, and the Great Shasta Rail Trail Association. (On-going)