Trail Highlights
From the State Park entrance, the trail winds its way through a mixed forest crossing a few small streams. The Indian Creek Interpretive Trail makes a small loop with it. Near the north end of the trail you can see stunning views of both Grey Rocks to the west as well as Castle Crags above you.
Trailhead Locations: Just inside of Castle Crags SP entrance or "Flume Trailhead"
Length Up to 5.6 miles round trip
Elevation Gain / Range: 1300 ft gain from elevation 2000 to 2900 feet
Difficulty: Easy to Moderate
When to go: All Year
Cell Service: Good but can be spotty: Download your maps beforehand.
Cautions: Stay out of brush (poison oak)
Restrictions: No Dogs in Castle Crags SP
Trail Map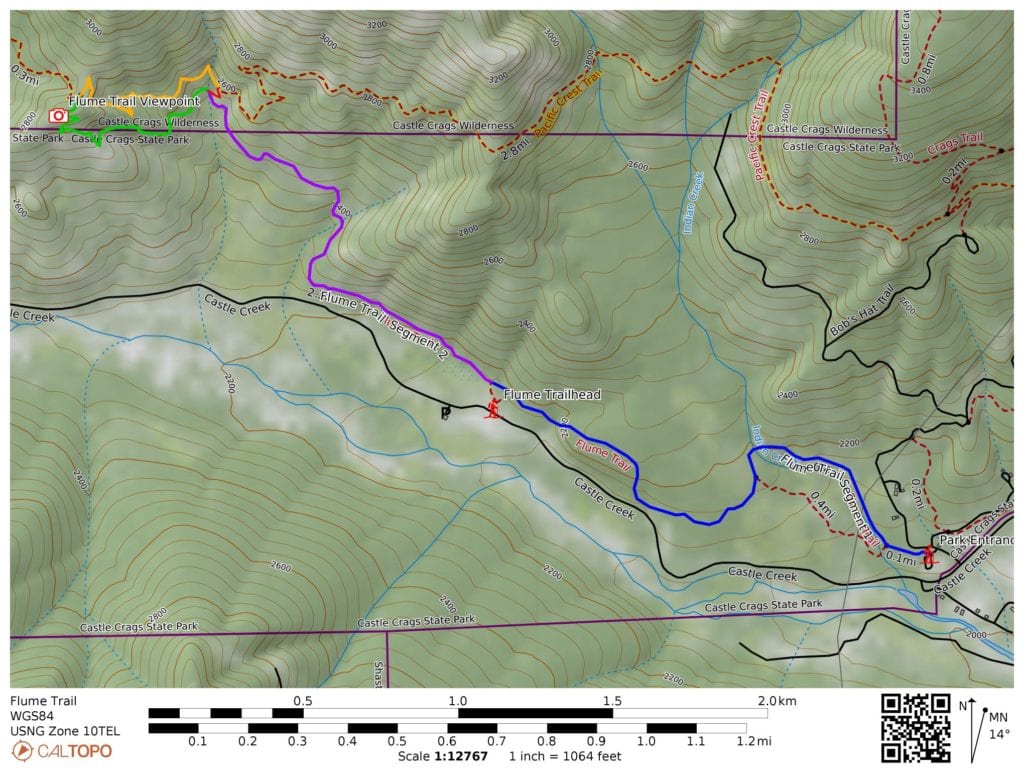 Note you can load these maps directly into the free CalTopo app by using the QR code.
Note the free Caltopo website lets you export files in *.gpx (generic gps file) / *.kml (Google Earth) or *.gpsio (Garmin Connect) formats for use with your favorite GPS software.        
Trail Details: The Flume Trail starts just inside the entrance to Castle Crags State Park. It starts off gently climbing through mixed forest with a few small creeks. Remnants of an old flume can be seen. After about 1-1/4 mile (just after a short connector to the informal "Flume Trailhead" along Castle Creek Road), the trail starts to ascend up towards the PCT. About 1 mile after the "Flume Trailhead" there is a very short connector to the PCT just a few feet higher. It is suggested to take that connector up to the PCT and then north along the PCT for a half mile where you will find the end of the Flume Trail meeting the PCT on top of a small ridge. Turn left, taking the Flume trail out along the back of a small ridge and passing one of the better views of the Grey Rocks to the west as well as Castle Crags. Options include: making a loop near the entrance station by following the Indian Creek interpretive trail or making a big loop using the PCT (See the map)
Directions to the Trailhead: Find either "Castle Crags State Park" or "Flume Trailhead" in Google Maps. Both are on Castle Creek Road: the State Park entrance is 1/4 mile northwest from I-5 exit 724 at Castella and Flume Trailhead is just a bit less than 1-1/2 miles northwest from I-5 exit 724.
Land Agencies:
Primary: Castle Crags State Park(530) 235-2684
Castle Crags State Park Webpage: https://www.parks.ca.gov/?page_id=454
Castle Crags Wilderness: Mount Shasta Ranger Station, Shasta-Trinity National Forest, 204 West Alma, Mount Shasta, CA 96067. (530) 926-4511. www.fs.fed.us/r5/shastatrinity