Trail Highlights
| | |
| --- | --- |
| Trailhead location | 5 mi east of McCloud |
| Length | 4 miles (round trip) |
| Elevation gain / max | 500′ / 3,600′ |
| Difficulty | Easy – Moderate |
| When to go | Year-round |
The McCloud River Trail passes three beautiful waterfalls as it winds through a canyon of basalt lava rock. This smooth, well maintained trail offers summer swimming, fall foliage, and an early spring thaw, making it fun and accessible year-round. The section between the Lower Falls and Fowlers Campground is paved for wheelchairs (ADA compliant). All three overlooks have ADA features.
Trail Map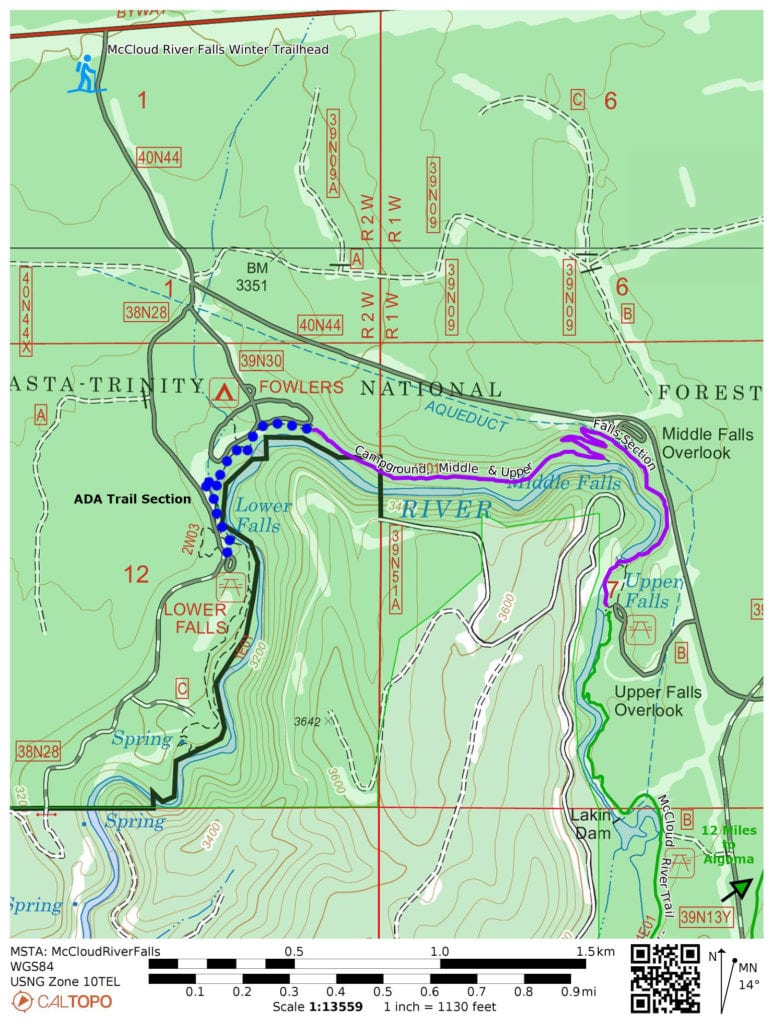 Other Maps
Note the free Caltopo website lets you export files in *.gpx (generic gps file) / *.kml (Google Earth) or *.gpsio (Garmin Connect) formats for use with your favorite GPS software.
Trail Details
Although all three waterfalls along this section of the McCloud River have their own parking lot and can be easily accessed directly, it is well worth it to start at Lower Falls, then hike the River Trail upstream to the other falls.
From the Lower Falls parking lot, take the paved path by the kiosk. You will almost immediately arrive at the Lower Falls, where a stone staircase leads to the water's edge. (Swimmers, please note: new submerged boulders have made popular jumping spots at this this location extremely dangerous. The River is constantly changing; always exercise caution and good judgement, and do NOT assume the water is deep enough to dive.)
From Lower Falls, continue upstream through the canyon, past Fowler Campground, approx 0.7 miles to Middle Falls (swimming is popular here as well). The trail has been relatively flat so far, but will climb a series of moderate switch backs from the base of Middle Falls up to an overlook above. The trail flattens and continues along the canyon rim to Upper Falls overlook. There is no sanctioned trail to the base of Upper Falls. For those interested, the trail continues another 13 miles further upstream, and because most hikers turn around at Upper Falls, you will find this section of river very uncrowded.
Geology: The McCloud River Canyon beautifully displays the eruptive history of nearby Mt Shasta as it carves its way through multiple layers of basalt lava rock and volcanic mud flows. Of particular interest are the many outcrops of columnar basalt, which has a unique geometric shape. These textures form as lava flows cool and contract, creating regularly spaced vertical fractures.
Land Agency:
Shasta-Trinity National Forest
McCloud Ranger Station
P.O. Box 1620, McCloud, CA 96057
(530) 964-2184

Visit the office at 2019 Forest Road on the north side of Highway 89 on the east side of McCloud. In Winter FR 40N44 is gated just south of Highway 89 but a winter trailhead parking area is provided at that location.
For official information re the McCloud River Trail see: https://www.fs.usda.gov/Internet/FSE_DOCUMENTS/fseprd544403.pdf
Directions to Trailhead
"McCloud River Falls Trailhead" in Google Maps.
From the main intersection in the town of McCloud, drive east on Highway 89 for 5.5 miles.
Turn right on the signed road for the McCloud River Loop. Continue for 0.7 miles.
Stay right at the first intersection (turning left leads to Middle and Upper Falls).
Pass the Fowlers Camp campground and turn left into the signed parking lot for the Lower Falls picnic area.
YEAR-ROUND; SNOWSHOES OR SKIS NEEDED IN WINTER.
Support MSTA
MSTA develops and maintains trails in the Mount Shasta area, and advocates for hiking, biking and equestrian access. We are a volunteer-based 501(c)(3) non-profit organization and count on your support. Please consider giving back to your trails!