Warning!
Black Butte Trail: Dangerous Condition
The Black Butte Trail is one of the oldest and most well used National Forest trails near Mt Shasta. Unfortunately, because of the severe reduction of trail maintenance funding in the last few years, the trail has become dangerous.
There is a short section of trail where a wire basket retaining wall has partially failed and will continue to fail. Part of it has collapsed across the trail, and the remaining part is hanging out over the trail at a sharp angle. If it were to fail while someone was hiking by, there could be tragic results.
There is no practical alternate off-trail route because of extensive large boulder fields.
Consequently, the Trail Association no longer endorses hiking on this trail. We suggest you explore other trails in the area.
The Siskiyou Outdoor Recreation Alliance (Mountain Runners) is working with the Forest Service to find a solution.
We will provide updates when available.
---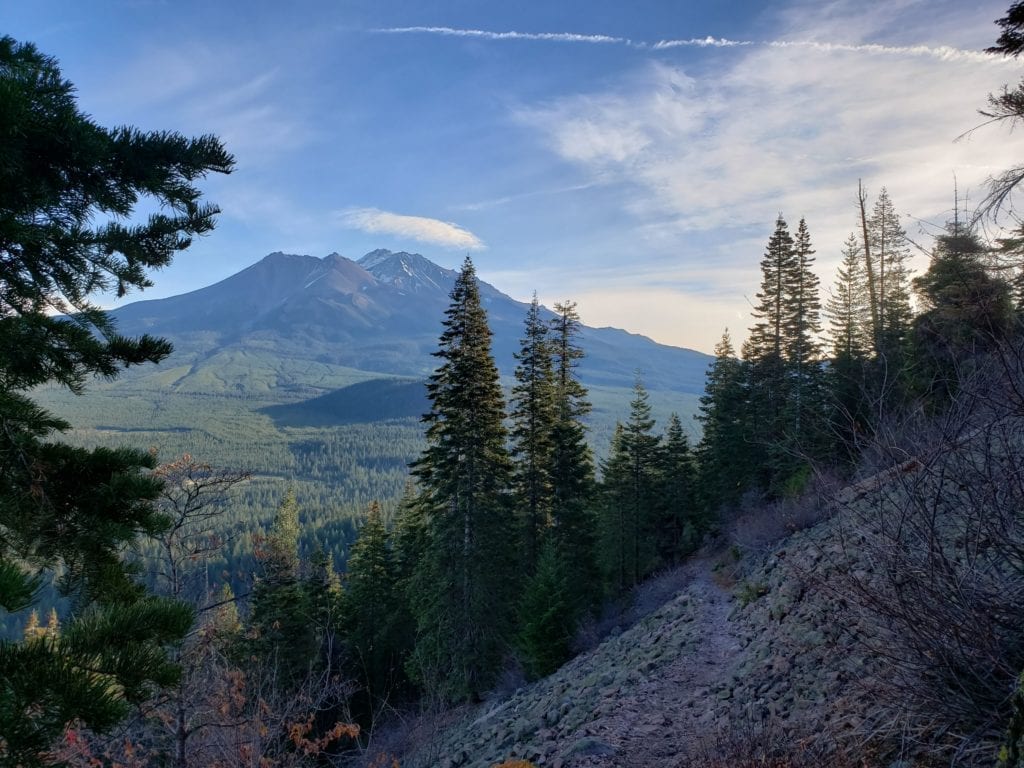 Length: 5.2 miles round trip
High Point: 6325 feet
Elevation Gain: 1850 feet

Difficulty: moderate
When to Hike: mid-May through mid-November
Controlling Agency: Mount Shasta Ranger Station, Shasta-Trinity National Forest, 204 West Alma, Mount Shasta, CA 96067. (530) 926-4511. www.fs.fed.us/r5/shastatrinity
Special Features: excellent views of Mount Shasta, the Eddy Range, and Shasta Valley; good late spring training hike
Directions to the Trailhead: Take the Central Mount Shasta exit of I-5. Go east on Lake Street for .7 mile and follow the curve as the road becomes Everitt Memorial Highway. Go another 2.2 miles and turn left at the sign for Black Butte Trail onto a gravel road. Go .1 mile and turn right. Go 1.0 mile and curve 90 degrees to drive straight toward Black Butte. Reach another road fork .3 mile farther, where you go right (north). Drive 1.2 miles and turn left onto a dirt road just after you pass under power lines. Continue the final .7 mile to the trail head.
Description and Comments: The steadily rising trail begins on the northeast side of Black Butte in a mixed forest of ponderosa pine, incense cedar, white fir, and Douglas fir. It soon reaches the northern flanks of the mountain to allow excellent northward views of the Weed area and Shasta Valley, with the mountains of the Oregon border region beyond, anchored by Mt. Mc Loughlin in southern Oregon.
At 1.1 miles the trail begins a southerly curve and presents excellent views of the Eddy range to the west and the Castle Crags and Trinity Divide area to the south. The trail then swings to the east and begins the final ascent to the summit of Black Butte. Here you add Mount Shasta to all the previously attained views.
Maps
Black Butte – Printable PDF Topo Map (CalTopo)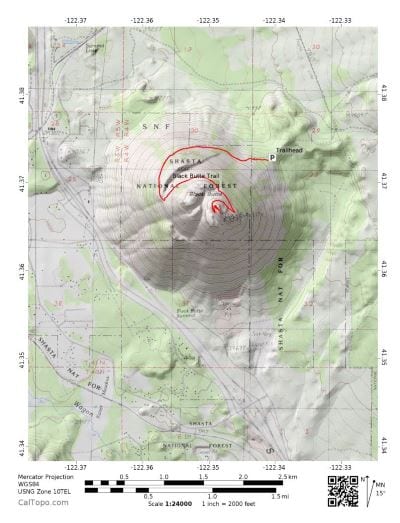 Black Butte – Online Topo Map (CalTopo)
Black Butte – Online Satellite Imagery (Google)
Black Butte – Google Earth 3D View (Downloadable KML coming soon)