Trail Highlights
Enjoy a leisurely flat saunter along the Pacific Crest Trail (PCT) with distant views of the Trinity Alps and up close encounters with numerous wildflowers (please do not pick so others can enjoy) on the way to the Deadfall Lakes.
Continue up the Upper Deadfall Lakes Trail to see higher smaller alpine lakes.
Trek up the Mt Eddy Trail switchbacks above timberline to reach the highest point  west of Mt Shasta at 9025 ft. and a wide variety of alpine flowers while catching your breath.
Most of the lakes are deep and clear: great for swimming
Views, Views, and more views.
Trailhead Location: Pacific Crest Trail – Parks Creek Summit Trailhead (Map kiosk and vault toilet)
Length: 5.6 to 10.4 miles round trip
Elevation Gain: 600 to 2400 feet gain depending on how far you go.
Elevation Range:
Trailhead is at 6800 feet.
Middle Deadfall Lake (The biggest one)  is at 7259.
Upper Deadfall Lake is at 7790.
Top of Mt Eddy is at 9025.
Difficulty is:
Easy to Middle Deadfall Lake,
Moderate to Upper Deadfall Lake and
can be Strenuous climbing at altitude to the top of Mt Eddy.
When to go: Mid-June to Mid-October
Bikes: No Bikes are allowed on the PCT nor on the Mt Eddy Trail above the summit of the Deadfall Lakes Trail. Mountain bike access is from Deadfall Meadow Trailhead and the Lower Deadfall Meadows Trail (See below for details)
Cell Phone Service is spotty while driving up Forest Road 17 and non-existent on the trails (except at the top of Mt Eddy) Download your maps beforehand
Trail Map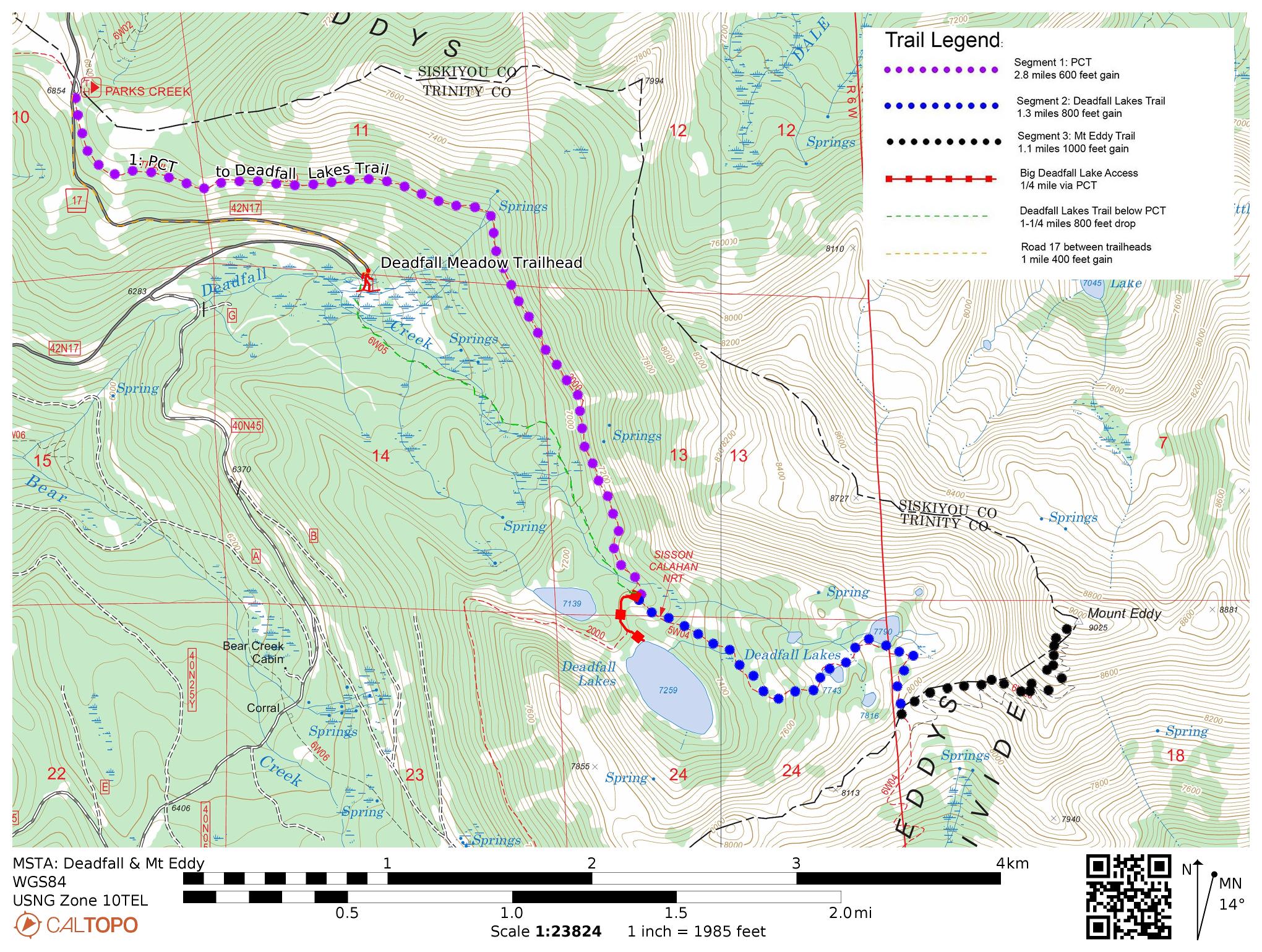 Note you can load these maps directly into the free CalTopo app by using the QR code.
Note the free Caltopo website lets you export files in *.gpx (generic gps file) / *.kml (Google Earth) or *.gpsio (Garmin Connect) formats for use with your favorite GPS software.
Trail Details:
There are multiple options as to how far you go and how you come back.
The primary route follows three segments up and back.
Segment 1: PCT to Deadfall Lakes Trail / Middle Deadfall Lake
2.8 miles 600 feet Gain 6800 to 7200 feet
Difficulty: Easy
NO Bikes on PCT
If you are going to Middle Deadfall Lake, continue on the PCT 1/4 mile beyond the Deadfall Lakes Trail intersection to get to that lake.
Segment 2: Deadfall Lakes Trail 5W04: From the PCT to Upper Deadfall Lake and Deadfall Crest
0.8 mile total 600 feet total gain to upper Deadfall Lake 7200 to 7800 feet
1.3 mile total 800 feet total gain to Deadfall Summit / Mt Eddy Trail 7200 to 8000 feet
Difficulty: Moderate
This piece is shown on some maps as part of the Sisson Callahan NRT (It is NOT the historic Sisson – Callahan trail which is in the next drainage to the west)
Segment 3: Mt Eddy Trail 6W25: Deadfall Crest to Summit
1.1 miles 1000 feet gain 8000 to 9025 feet
Difficulty: Strenuous (Altitude)
NO BIKES per FS Regs (Wilderness Study Area designation and tight switchbacks in loose material are being eroded away by bikes)
Alternatives:
Middle Deadfall Lake: On the way up and/or back you can take the PCT 1/4 mile west of the Deadfall Lakes Trail to the outlet of the biggest Deadfall Lake ("Middle Deadfall Lake") to enjoy that lake. Make sure you note how to get back to the junction of the PCT and the Deadfall Lakes Trail: it is the key trail junction in this area.
Deadfall Meadows Loop: A loop can be created on your return by following the lower part of the Deadfall Lakes Trail from the PCT down through the meadows and ford some streams to the Deadfall Meadow Trailhead. You pass different, but beautiful, flora than you see on the PCT. The last bit as you approach FR17 is on a muddy trail across the meadows. A 1 mile walk along paved FR 17 and 400 feet of climbing brings you back to the Parks Creek Trailhead This route doesn't add any distance, just 400 feet more of hiking down and up. (Setting up a shuttle with a friend makes this much more enjoyable)
Land Management Agency: Mount Shasta Ranger Station, Shasta-Trinity National Forest, 204 West Alma, Mount Shasta, CA 96067. (530) 926-4511. http://www.r5.fs.fed.us/shastatrinity
Directions to the Trailhead: From Mount Shasta City, drive north on Interstate 5, through the town of Weed. Exit at the Edgewood/Stewart Springs exit 751. Turn left and drive under the freeway, then turn right onto Old Stage/ Old 99. Continue north for a couple hundred yards and then turn left onto Stewart Springs Road. After 4 miles, Forest Service Road 17 splits off to the right. Follow this road to the Parks Creek Trailhead at the summit of the road. Note that Google Maps shows two trailheads at the top of FR 17: "Pacific Crest Trail – Parks Creek Summit trailhead" and "Pacific Crest Trail – Mount Eddy trailhead" There is only one trailhead and the official sign reads "Parks Creek Trailhead"
Note the last small blocking drift of snow on FR17 is just before the summit; it lasts into June many years. If it is there, find a safe place to park and scramble cross country either below or above the snow to the summit of the road. (If you happen to be coming from Trinity County you can usually get to the PCT Trailhead before getting stopped by this last bit of snow) (Check with the Mt. Shasta Ranger Station beforehand)
Description and Comments: Note: This description is based on a description from 100 Classic Hikes in Northern California, third edition. Find out more about the book at http://www.northerncaliforniahikingtrails.com and be sure to check out author John Soares' blog on Northern California hiking trails.
From the trailhead, look for Pacific Crest Trail (PCT) signs leading south and initially paralleling the chip-sealed Parks Creek Road. The PCT (hikers and equestrians only) stays mostly level at the onset and soon provides views of the Trinity Alps from a northeast vantage point. Red fir and white fir mix with Jeffrey pine and ponderosa pine to shade patches of dwarf larkspur and yarrow as you travel to a seasonal creek at 1.1 miles. Another stream gurgles down to scenic Deadfall Meadows at 1.8 miles, where yellow lupine and white-flowered angelica combine with sage for showy trailside color. The wildflower displays keep coming, with corn lily and red columbine surrounding another brook at 2.1 miles.
Western white pine dominates at 2.2 miles as you first sight Mount Eddy's southwest shoulder, along with the upper meadows where Deadfall Creek meanders. Reach the signed junction with the Deadfall Lakes Trail at 2.8 miles. You can continue straight on the PCT for a 1/4 mile to the outlet for Middle Deadfall Lake. Lower Deadfall Lake is just below big Deadfall Lake, but it loses a lot of water during the summer. Focus your attention on the prettier lakes farther on by going left on the Deadfall Lakes Trail and continuing uphill. (Note on some maps this section of the Deadfall Lakes Trail is also identified as the Sisson-Callahan NRT, but this is not the historic Sisson–Callahan Trail which is one drainage farther west in this area.)
You soon spot Middle Deadfall Lake on the right. Big rocks on the shoreline make great sunbathing and dipping spots, and you'll also find several campsites. A marsh covered with marigolds is adjacent to Middle Deadfall Lake's north side. As you lose sight of big Middle Deadfall Lake you then pass a pure stand of western white pine on your way to Mount Eddy.
At 3.1 miles, just before the first of three alpine ponds, foxtail pines appear. Three superb campsites exist at the first pond, which reflects the orange metamorphosed rock of the west flank of Mount Eddy. Reach the meadow above Upper Deadfall Lake at 3.6 miles. A sand-bottomed brook wanders through the meadow, where wild onion, buttercup, and bird's-foot grow next to a spring. The path ascends to the southwest, allowing numerous views of the Deadfall Lakes and the Trinity Alps in the distance.
At 4.2 miles you reach Deadfall Summit. Go left at a trail fork and climb relentlessly for the next 1.1 mile, gazing at displays of the upper Sacramento River drainage to the east and Castle Crags to the southeast, as well as a mix of shiny metamorphic stones and alpine wildflowers at your feet. An excellent vista of Mount Shasta awaits at Mount Eddy's summit. In addition to all previously encountered views, you'll also see Black Butte, the Trinity Alps, Mt McLoughlin and Mt Lassen, …..