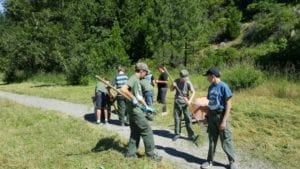 Please join the Mt. Shasta Trail Association and the Boy Scouts for a morning of maintenance at the Spring Hill Trailhead on June 2 at 9 am.  The weeds will be about 3-4 ft. high, so we'll weed-whack, trim, rake and remove the debris.  If you have a weed-whacker or rake to bring, go ahead, but we'll have a lot of tools.
The Boy Scouts are providing drinks during the morning, and sandwiches for lunch.  If a half dozen volunteers show up from MSTA, we'll make short work of this.
Come on out and make some new friends.
If coming north on Mt. Shasta Blvd., turn right on Ski Village Dr., stop at the stop sign, and go straight about 50 yards and you can't miss it.  If coming south from the freeway (N. Mt. Shasta exit), turn left on Ski Village and do the same.  If confused on the location, google Spring Hill Trail and look at the map.
JH