Hiking guidebook author John Soares will give a presentation on trails in the Mount Shasta area and beyond on Monday, June 25, from 6:30 to 8:00 p.m. at the Mount Shasta Library, 515 East Alma Street in Mount Shasta.
John is the author of two new books released in the last few weeks. Day Hiking: Mount Shasta, Lassen & Trinity Alps Regions contains 125 hikes from Redding to Yreka and from the Trinity Alps to Lassen Volcanic National Park, with some trails short and easy and others long and challenging. All-color 100 Classic Hikes: Northern California 4th edition, presents the best day hikes and epic backpacking trips from the Bay Area and Lake Tahoe north. Both are published by Mountaineers Books, one of the world's major publishers of outdoor guidebooks.
A Q&A session and book signing will follow the visual presentation, and the books will be available for purchase.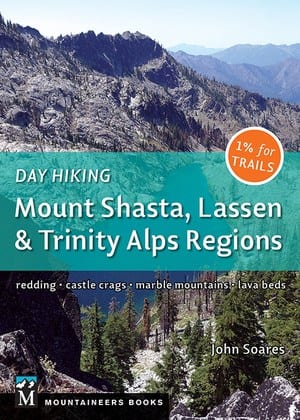 The event is free, but seating is limited.
Here is the Facebook event page:
https://www.facebook.com/events/231628204094882/
About John Soares
John started hiking as a little kid while growing up near Anderson, California. He backpacked in the Trinity Alps as a teenager and then expanded his range to explore other Northern California trails. His first hiking guidebook came out in 1992. He lived in Mount Shasta and nearby for seven years, and he currently lives in Ashland, Oregon, where he works as a writer for businesses and nonprofits.