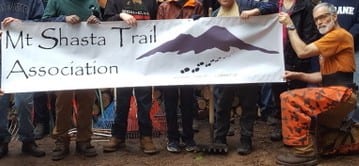 The Mount Shasta Trail Association (MSTA) is very pleased to announce that John Harch was recently elected as the association's new president. John has been active on MSTA's board of directors since 2013 – serving as its vice president for the past three years. He was elected president at a recent board meeting, assuming the reins that Barry Price held for over three years.
A retired general surgeon, Harch brought a good mix of humor and energy to the MSTA. John has been very successful in getting volunteers and other organizations out on the ground to cut brush, dig trail tread, build rock walls and install trail signs. His core of hard workers has been nick-named the "crazy old men," but under John's leadership they're the hardest working bunch of guys and gals you'll ever meet.
John earned a degree in biology from Northwestern University in Evanston, Illinois, before going on to medical school at UCLA. He completed his surgical internship and residency at LA County/USC Medical Center. Before landing in Siskiyou County, John practiced surgery in the Bay Area and southern California. John is board certified in general surgery and critical care medicine.
Don't be surprised to run into John on an area trail, hiking, riding his mountain bike or leading a group of volunteers working a trail. With surgical precision, John will use his skills and passion to lead the MSTA into the future!