Trail Highlights
This trail passes through Sand Flat which has one of the most spectacular views of the top of Mount Shasta. It follows a portion of the historic route used to climb Mount Shasta first mapped in the 1890's. At the Sierra Club's Shasta Alpine Lodge at Horse Camp you can enjoy the beauty of wilderness timberline.
Trailhead Locations: In Google Maps "Upper Sand Flat Trailhead"
Length 5-1/2 miles round trip
Elevation Gain / Range: 1400 ft gain from elevation 6700 to 7900 feet
Difficulty: Moderate
Cell Service: Ok, can be spotty: Download your maps beforehand.
When to go:

June to November (Hiking)
December to May (Snowshoeing / All-terrain skiing)
July to September (Wildflowers)

Regulations: NO dogs, bicycles, motorized vehicles, horses, pack animals or drones within the USFS Mt. Shasta Wilderness and Sierra Club Foundation property (wilderness is approximately 1 mile from Sand Flat Trailhead kiosk).

Free Wilderness Permits are required for this hike. They can be obtained at the Sand Flat TH kiosk (after the trail passes Sand Flat)
A climbing pass ($25) is required if you plan to go above 10,000 ft elevation and can be purchased at the trailhead kiosk)
Trail Map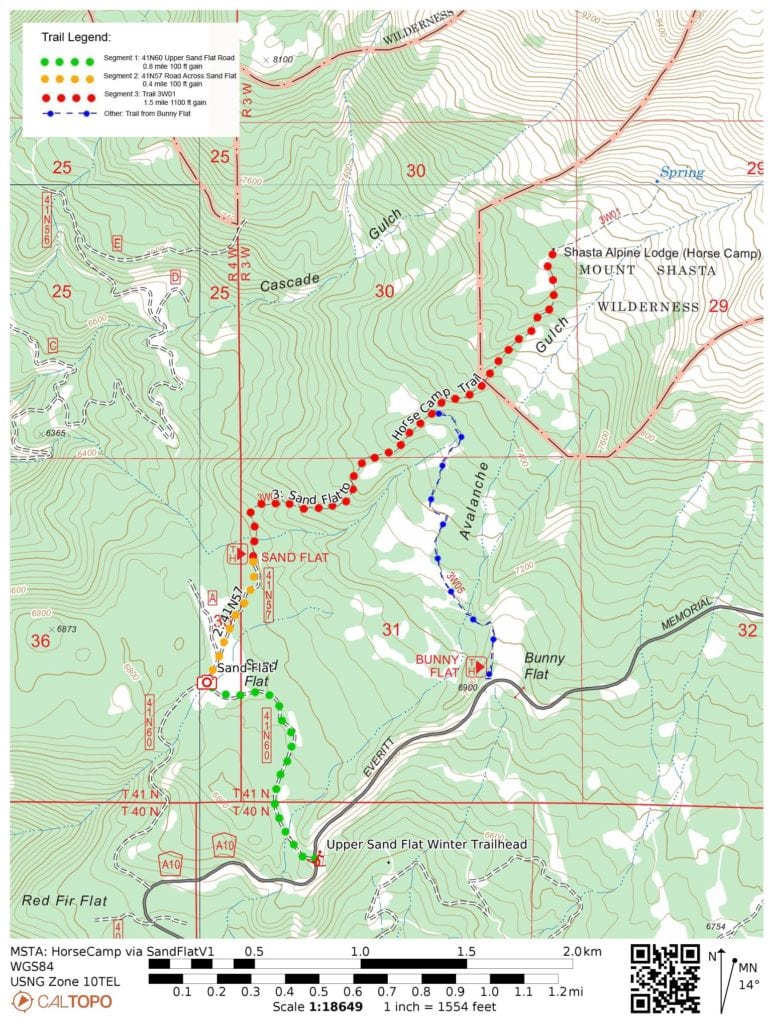 Note you can load these maps directly into the free CalTopo app by using the QR code.
Note the free Caltopo website lets you export files in *.gpx (generic gps file) / *.kml (Google Earth) or *.gpsio (Garmin Connect) formats for use with your favorite GPS software.
Trail Details: After parking off the road near the Upper Sand Flat "Winter" Trailhead, follow road #41N60 (Upper Sand Flat Road) 0.8 miles to Sand Flat. At the Sand Flat sign follow the road to the left of the sign (road #41N57) across Sand Flat itself for 0.4 miles to the Sand Flat Trailhead / Map Kiosk at the end of road #41N57. (Note we recommend walking this far to better enjoy the spectacular views in Sand Flat of THE MOUNTAIN and to minimize impact to this fragile environment. Please do not walk through the meadows but stay on the dirt roads) At this point the route starts following true NFS trail 3W01 up the slopes to Horse Camp. At any trail junction just continue uphill. Along the way you will pass NFS trail 3W05 from Bunny Flat.
Directions to the Trailhead: "Upper Sand Flat Winter Trailhead" (In Google Maps): From the I-5 Lake Street interchange, take Lake Street 0.9 miles straight across town. It briefly joins Washington Drive before becoming Everitt Memorial Highway (A10) at Rockfellow Drive. From Rockfellow Drive follow Everitt Memorial Highway (A10) for 10.2 miles to the "Upper Sand Flat Winter Trailhead" / FR #41N60. Find a place to park off the pavement. The hike starts by walking up Forest Road #41N60.
Land Management Agency: Mount Shasta Ranger Station, Shasta-Trinity National Forest, 204 West Alma, Mount Shasta, CA 96067. (530) 926-4511. www.fs.fed.us/r5/shastatrinity
Private Inholding within the Mt. Shasta Wilderness:
Sierra Club Foundation (Owns and maintains "Horse Camp" and surrounding area)
https://www.sierraclubfoundation.org/what-we-fund/shasta-alpine-hut