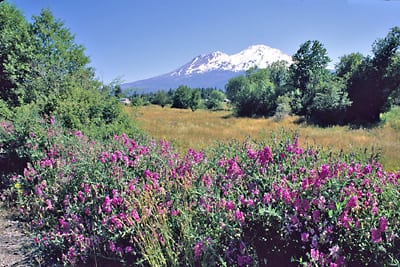 An important part of the Mt. Shasta Trail Association's mission is to provide inspiring outdoor experiences and advance appreciation of the beauty of the Mt. Shasta area. Toward that end, we offer information on trails in the Mt. Shasta area, encouraging you to discover new places to hike and enjoy. The trails are categorized by geographical area, all within approximately 50 miles from the summit of Mt. Shasta.
Click on the Trails Guide tab in the menu above, and then let your mouse pointer go over the desired region, and finally, click on a specific hike to open a separate page.
Hiking Rules and Tips
Learn and implement the comprehensive list of rules for wilderness safety and ethics compiled by Seattle Mountain Rescue: http://www.seattlemountainrescue.org/safety.html
Follow the Leave No Trace principles: http://www.lnt.org/programs/principles.php
Hiking Books and Maps
Mount Shasta's Village Books has a great Web site that includes all the local hiking guides and maps, nature books, and special-interest books. They update the site frequently and ship daily. Please support our local bookstore.
Hiking Trails Disclaimer
Hiking trails and driving to trailheads entails certain potential dangers. We describe how to get to the trail and how to stay on the trail. However, you need to be prepared for anything and everything that nature and people can do to you. You bear responsibility for your actions and their consequences, not us. That said, prepare well and then get out there and explore and enjoy!