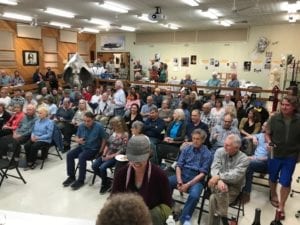 The Mt. Shasta Trail Association held its annual meeting on Wednesday, May 23, 2018.  We offered a large variety of delicious catered food, terrific beer from Deschutes Brewery, and fantastic wine, all for free.  If you missed it, it's most definitely not our fault, but you can start planning for next year's meeting now.
Attendees enjoyed socializing with new and old friends, then were updated on numerous events and projects that MSTA is promoting.  PowerPoint presentations were given on the following:
Progress on the much-anticipated Gateway Phase II Trail, a 45-mile expansion of the popular Gateway Phase I Trail network.
Very exciting news on the work to create a safe trail to Mossbrae Falls. The trail would cross the river at Hedge Creek Falls (via suspension bridge) and then travel along the river about 20 feet below the RR tracks.
The plan to make Mt. Shasta the first Pacific Crest Trail "Trail Town." A celebration of this designation will occur on July 21, 2018.
Rules and etiquette for trail interactions between hikers, bikers, and horseback riders.
Completion of the conservation easement on Rainbow Ridge by the Siskiyou Land Trust, which will conserve almost 500 acres of forest and opens up future trail opportunities. Trails on Rainbow Ridge may ultimately connect to the Lake Siskiyou Trail and the PCT.
Planned expansion and improvement of the Parks Creek Trailhead, an important portal to the PCT.
New collaborations between BikeShasta (Mt. Shasta Mountain Bike Association) and the Mt. Shasta Trail Association.
Five suggestions for new trails that would link other important trails together and enhance the experience while traveling those trails.
Numerous trail maintenance and trash clean-up projects accomplished by the trail crew over the past year.
If you're kicking yourself for missing the meeting (and the free grub and booze), and want to get involved, send us an email to mtshastatrail@gmail.com or a message through our website, mountshastatrailassociation.org.  You can also join our trail crew for work projects.
Many thanks to Deschutes Brewery for the beer and Joe and Michael Wirth for the wine!