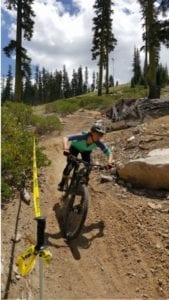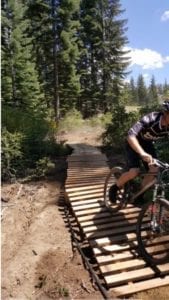 On Wednesday, May 30, 2018, I attended "Shop Appreciation Day" at the Mt. Shasta Ski Park.  It was arranged for owners and employees of sports stores, as well as a few members of trail and mt. bike organizations to learn about the mt. biking possibilities at the Ski Park.
We loaded our bikes on the lifts, then sped down the Beginners' Trail, the Flow Trail, and the Downhill Course.  There are loads of trail features, including big bermed turns, jumps, ramps, The Wall Ride, doubles, a teeter totter, and a massive curved ramp jump (many of which this old dude didn't attempt).  The Flow Trail and Downhill Trail have been outfitted with sprinklers to keep the dirt firm and the dust down.  There are a number of other trails (Perimeter, Back-Side Douglas, etc.) which traverse larger expanses of the park that we didn't have time to try, but we did have an absolute blast.
The Ski Park has invested a load of money and employee time to create a really fun experience for mountain bikers.  Please consider supporting this effort by buying a summer season pass ($130) or a day pass ($32) and seeing the park in a completely new way.  The park is open on Saturdays and Sundays from now until September.
Thanks to Taylor Russell (Bike Park Manager) and Richard Coots (General Manager) for the guided tours, lunch (with beer!), and their hospitality.  Yes, they served us beer and sent us back out there on the Downhill Course!  Thanks to the trail crew for all their efforts: James, Pat, Ben, and Chase.