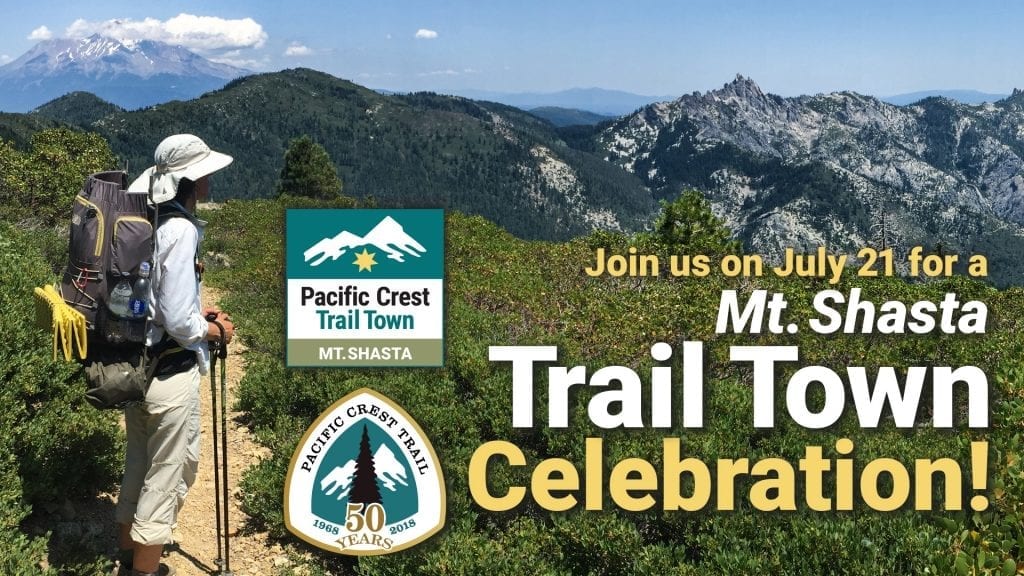 On July 21st in downtown Mt. Shasta, we'll be celebrating the launch of Mt. Shasta as an official Pacific Crest Trail Town!
One of the great things about the Pacific Crest Trail is the many wonderful towns it passes near–communities that offer rest and resupply to long-distance hikers on the trail, and provide access to not only the PCT but a variety of other trail-based outdoor recreation for the public. Come join MSTA and the Pacific Crest Trail Association on July 21 to celebrate this new PCT trail town and learn more about the PCT and other outdoor recreation opportunities near Mt. Shasta and in Siskiyou County. Events will include…
8:00 a.m.
A Guided Hike on the PCT
Experience the Pacific Crest Trail! Meet across from The Tree House Hotel on Morgan Way at 8 a.m. to carpool to a nearby trailhead for a short, easy hike along the PCT.
12 Noon to 9 p.m.
Activities and Booths
Family and Kid-Friendly!
Hiking Gear & Camping Demos
Crosscut Sawing
Pack Animal Demos
Leave No Trace Info
Local Trail Recreation Info
PCT Photo Booth
Prize Drawings
Food and Beverages for Sale
Much more!
6 p.m. to 9 p.m.
Live Music and Dancing
Wind Fields
Secret Society Handshake
All events are FREE and open to the public.